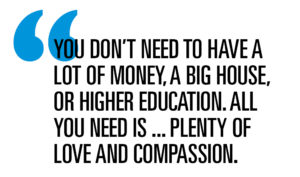 "There is no escaping the fact that fostering is not always a bed of roses and it can be challenging at times….
however, the positives far outweigh the negatives. Giving children the chance they deserve in life is very rewarding and we wouldn't have it any other way."
Those are the words of Andrew, 39, who with his wife Amee, 40, have been fostering children through Little Acorns for the past two years.
Encouraging new foster carers
The couple from Huntingdon, Cambridgeshire, are encouraging more people to consider taking up fostering to meet the growing need to give children a loving and stable home. An additional 610 foster families were needed in the East of England, figures released by the Fostering Network revealed. According to statistics from the Department of Education, in Cambridgeshire, an additional 80 placements were needed.
Andrew and Amee had been considering fostering for a while and were convinced to go ahead after talking to friends who are also foster parents. They have two sons and a daughter: triplets aged 10, who encouraged their parents to go ahead with fostering.
The couple took their first placement two years ago and are currently caring for two sisters aged fifteen and nine.
"Placements often come from quite a chaotic background and it is very rewarding to see the progress they have made just by being provided with a simple and stable home life."
"After spending time in placement, children can have a different perspective on life, their behaviour often improves and this reflects in their school work. As a couple, we have always been strong believers that sibling groups should not be split up and that is why we have our current placement. Due to where we live, the girls have been able to continue to go to the same schools they were already at and have managed to stay in touch with their friends, which has also helped them".
Difficult but rewarding!
"Whilst there have been some difficult moments, it has been a joy having the girls come into our family and seeing their progress. It gives both Amee and I great satisfaction that we are able to offer children opportunities and fostering is now something will are likely to continue to do throughout our lives. We would certainly encourage others to consider taking up fostering as there are many children out there in need of a loving and supportive family and the stability of a good home life," said Andrew.
Cheryl Jillions, Registered Manager at Little Acorns, said: "Couples such as Andrew and Amee are amazing people, you could even say heroes. To provide a loving and caring home to vulnerable children and to help put them on the right path in life is simply an amazing thing to do. We really do need more people like Andrew and  Amee to come forward to provide supportive family environments to children and young people across the East of England.